Krokets
Kroketu spēlē visā pasaulē. Arī pie mums. Tā ir aizraujoša spēle, ko ar prieku var spēlēt visa ģimene. Gan pieredzējušiem spēlētājiem, gan iesācējiem kroketa spēle būs patīkama, veselīga un azartiska laika pavadīšana svaigā gaisā. Krokets ir sporta veids, kurā spēlētājiem, pēc kārtas sitot ar āmurīti pa bumbiņām, noteiktā secībā tās jāizdzen cauri 6 laukumā izvietotiem vārtiņiem. Spēles gaitā ir iespējams noteikumu robežās traucēt pārējiem spēles dalībniekiem veikt maršrutu. Tādējādi spēlē ir nozīme ne tikai sitienu precizitātei, bet arī taktikai. Spēlē piedalās četras bumbas, tipiski — zila, sarkana, melna un dzeltena — kas ir sadalītas divām komandām.Visbiežāk spēlētie kroketa varianti ir asociācijas krokets un golfa krokets, kuru redzamākā atšķirība ir tāda, ka asociācijas kroketā pēc veiksmīgas bumbiņas izsišanas cauri vārtiem, veiksmīgais spēlētājs tiek pie papildsitiena.
Golfa krokets
Vienai komandai ir zilā un melnā bumba; otrai — sarkanā un dzeltenā. Spēlētāji pamīšus sit pa kādu savas komandas bumbu; secība ir svarīga, vispirms tiek sista zilā, tad sarkanā, melnā un dzltenā bumbas.Katram spēlētājam ir viens sitiens, ar kuru viņš cenšas no pareizās puses izsist savu bumbu cauri pirmajiem vārtiņiem. Bumbas izsišana cauri vārtiņiem dod vienu punktu (ja izdodas izsist uzreiz cauri diviem vārtiņiem, tad tiek iegūti divi punkti, bet šis gadījums ir rets). Pēc tam, kad viena komanda ir izsitusi vienu savu bumbu cauri vārtiņiem, spēlētaji sit bumbas nākamajos vārtiņos.Uzvar komanda, kas saņēmusi 7 punktus; neizšķirta 6:6 gadījumā pēdējais punkts tiek izspēlēts trešajos vārtiņos.Šie ir noteikumi īsumā, bet tiem, protams, ir dažādas nianses, un tās var izlasīt mājas lapas sadaļā "Kroketa noteikumi".
Asociācijas krokets
Asociācijas kroketa galvenās atšķirības no golfa kroketa:bumbu izspēles secība nav stingri noteikta: spēlētājs savā gājienā var sist pa jebkuru savas komandas bumbu; komandai cauri vārtiņiem jāizsit abas savas bumbas, nepietiek tikai ar vienu; kad spēlētājs izsit bumbu cauri vārtiņiem, tad viņš var turpināt gājienu; spēlētājs var turpināt gājienu tad, ja viņa raidītā bumba pieskaras kādai citai bumbai, noliekot savu bumbu skartajai blakus; krietni sarežģītāks par golfa kroketu. 2015. gadā Jānis Šteins ir apņēmies noorganizēt Latvijā pirmo oficiālo asociācijas kroketa turnīru.
Krokets Pasaulē
Pasaules un Eiropas kroketa (golfa un asociācijas) čempionātus organizē Pasaules krokteta federācija (WCF, wcfcroquet.org). WCF kroketā.2013. gada pasaules čempionātu asociācijas kroketā uzvarēja 20 gadus vecais Roberts Fletčers no Austrālijas; arī šobrīd viņš individuālo spēlētāju reitinga tabulas augšgalā. Te var noskatīties nelielu videomateriālu par Roberta uzvaru.Arī golfa kroketā pēdējais pasaules čempionāts notika 2013. gadā, un tā čempions ir Redžinalds Bamfords (Reginald Bamford), kas, kaut dzimis Lielbritānijā, pārstāv savu dzīvesvietu — Dienvidāfrikas republiku.Golfa kroketa tabulā ir arī latviešu spēlētāji — individuālā reitinga pirmajā piecsimtniekā šobrīd mūsējie ir pieci, Normunds Zelčāns (164), Jānis Šteins (219), Valters Briksis (379), Roberts Stafeckis (436) un Andris Usāns (462). Reitingu tabula tiek pārrēķināta pēc katra WCF kvalificētā turnīra.
Krokets Latvijā
Krokets Latvijā tiek spēlēts jau kopš 90. gadu sākuma. 2009. gada vasarā tiek dibināts Ogres kroketa klubs. Tam seko kroketa kluba "Rīga" dibināšana (šobrīd beidzis pastāvēt) un Latvijas Kroketa federācija (LKF) reģistrācija. 2010. gada pavasarī tiek nodibināts kroketa klubs - Siguldas - Līgatnes klubs "SIG-LIG". 2014. gada septembrī LKF sastāvā iekļaujās Ropažu sporta klubs "Boule". Klubi un federācija Latvijā popularizē Golfa kroketa spēli, kas ir vienkāršāka un dinamiskāka. 2010. gada 15. maijā kroketa klubs SIG-LIG Līgatnē organizē pirmās LKF atzītās sacensības Latvijā. Kopš tā laika turnīri golfa kroketā notiek dažādās Latvijas vietās, tostarp Siguldā, Ogrē, Dikļu pilī, Salaspils botāniskajā dārzā, Ropažos un "Ratniekos". Pasaules kroketa federācijas (WCF) padome 17. jūlijā Londonā vienbalsīgi uzņēma Latviju Pasaules Kroketa federācijā - WCF. Latvija kļuva par 25. valsti, kas ir pārstāvēta WCF, līdz ar to garantējot vismaz vienu starta vietu visos WCF organizētajos starptautiskajos turnīros.
Kur spēlēt kroketu?
Sacensības golfa kroketā organizē SK Boule. Dalība turnīrā (ieskaitot inventāra īri) 5 EUR no spēlētāja. Dalību turnīros var pieteikt pa tālruni +371 29215481, vai e-pastu valgund1943@gmail.com.
WCF par Latvijas kroketu
Latvia--sandwiched between its Baltic neighbors Estonia and Lithuania--is among the smallest countries to be accepted into the WCF, a testament to a very fast start. They are already recruiting a broad membership base through several clubs, producing frequent tournaments, competing in Scandinavian and German events, and hosting groups from other WCF observer members. And they have entered a Latvian contingent in the first Golf Croquet World Teams in Cairo in November 2012. Is Riga destined to become a hub of WCF croquet for the entire region? We shall see.
---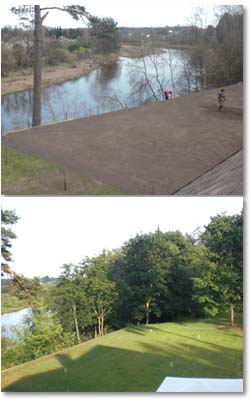 At the Stafeckis home, there was enough space to squeeze in a 3/4 size court--the first good-quality croquet surface in Latvia.
The Republic of Latvia was among the European countries most adversely affected by the economic slump of 2008-10, from which it has spectacularly recovered. In the middle of the crisis, in the summer of 2009, Roberts Stafeckis with his family and friends decided to establish a croquet club based on his private lawn. They had started playing casually in the 1990's, and found the game fun--even with home-made equipment on a ragged and bumpy surface.
In a sparsely populated country with a population of only two million, the local media noted the official establishment of Ogres Kroketa Klubs and began to report on the demonstration tournaments the members staged at a nearby countryside guesthouse. Because Latvian news has to travel not much more than 100 miles from the capitol Riga in any direction to reach the borders, a "local" news report is pretty close to being a national one. The word spread quickly.
When a group of friends nearby started their own club, it was time to organize the Latvian Federation.
Before the summer was over, a group of friends in another town started a second club, and those two organizations became the foundation of the Latvian Croquet Federation, formalized with the government in October 2009 to establish a legal basis for competitive croquet in the country. Stafeckis was the major mover and shaker in all this activity, so he was the natural choice to be elected president of the new national croquet organization. Over the winter, the official website of the LKF went online at www.latvijaskrokets.lv, and Stafeckis--fluent as many Latvians are in English, German, Latvian, and Russian--translated the synopsis of the laws of Golf Croquet into Latvian.
More clubs, better policies, bigger events in 2010
Over the next winter, a third club in the nearby towns of Sigulda and Ligatne established their own club based on a private lawn and named it after their towns, SIG-LIG. Before the start of the 2010 summer season, SIG-LIG had joined the national croquet organization as well.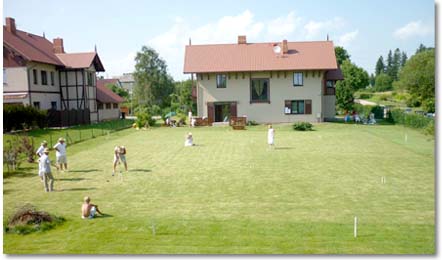 The SIG-LIG club was the third to join the Latvian federation and the first to get European Union funding for building two regulation lawns.
At the same time, the Latvians prepared for a big 2010 by making important decisions: The first was to limit events to Golf Croquet, in order to attract the most novices to the game. They established national ranking regulations, and they agreed on a full calendar of events for the summer season.
Another interesting but sensible policy has taken root. Most new clubs maximize space by using half-courts, but when most of the play is in Golf Croquet (with each game contesting each hoop in the order of the course) half courts aren't necessary: "We prefer rather to play triple-banked during block and plate," says Roberts.
So on May 15, 2010, the first official croquet tournament in the history of Latvia was produced in Ratnieki, 70 kilos from the capitol Riga.
By the end of summer, Latvian croquet had made contact with national bodies in Finland, Germany, Sweden, Denmark, and Norway. In mid-September, Latvia was accepted as a member of the European Croquet Federation. In the same month, Stafeckis and Viktor Harlinkskis visited the Gateball World Championships in Shanghai and established contact with that body, which gifted them with a full set of Gateball equipment.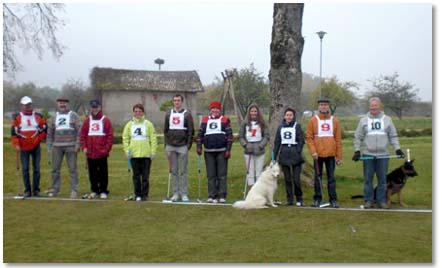 Gateball is given a serious try-out with the set gifted to Latvia at the Gateball World Championship in Shanghai.
As a highly-placed diplomat, Roberts is well positioned to take advantage of international contacts to include croquet in his travels. He has been posted to the capitols of Denmark and Germany, and his position as Commissioner General of Latvia at the Shanghai World Expo 2010 preceded the creation of several Chinese investments in Latvia. He will head Latvia's project for the Ministry of Economy at the World Expo 2015 Milan.
By 2011, unstoppable momentum
Though his national ranking at the beginning of the 2012 season was only 7th out of 48 players, he had ended the 2011 summer season, on October 9, with a second-place finish to Norman Zelcans in the first national Golf Croquet championship. Stafeckis and Zelcans are both 48, and pretty much the median age for the fledgling association, with ranked players as young as 15 and as old as 69.
Stafeckis makes no excuses for not yet achieving the #1 in his country, but he does have a good explanation: "In my busy travel schedule during 2010 and 2011 seasons, I spent more time abroad in China than at home, having 14 round trip flights within 18 months. And I did not have a decent mallet till last September." That's when he bought his Pidcock.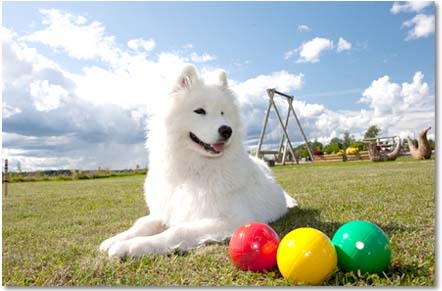 The family dog Elza was one of the first members of Stafeckis' club as mascot.
Throughout the entire summer season of 2011, the ten ranking tournaments attracted an average number of 21 players each--just about right for the limited lawn space available. Triple-banked, 12 people can play Golf Croquet simultaneously on two full lawns. And when time and space are an issue, preliminary games can be played in a first-to-four-points format instead of the conventional first-to-seven.
Most lawns are being rapidly upgraded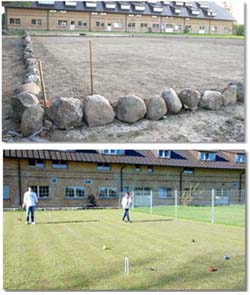 SIG-LIG builds the first two-lawn facility: before and after.
Up until the end of the 2010 season, croquet in Latvia was played mostly on unimproved and undersized lawns. But by then Stafeckis had decided to invest in the improvement of a decent-sized court (20 x 25 metres) at his family home. And at the beginning of 2011, SIG-LIG got financial support from the European Union for construction of two side-by-side full lawns at the club's premises at Ligatne.
During the 2011 season, LKF was recognized by the Latvian Government as the only institution with the right to represent Latvian Croquet internationally. In July, Stafeckis went to the WCF Council meeting in London and received for his fledgling organization recognition as a first-stage (observer status) member of the WCF.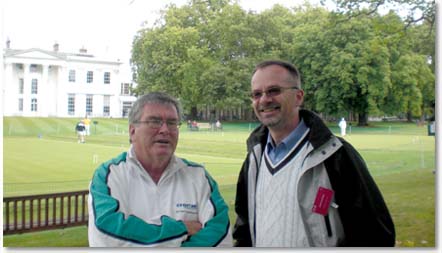 When Stafeckis (right) visited London to apply to the World Croquet Federation for Latvian membership he met the late Charles Jones at Hurlingham.
In August, the first group of Latvians ventured abroad to Germany for some friendly matches with the Hamburg Croquet Club; only two weeks later, Stafeckis and two other Latvians journeyed Norway and made a respectable showing in the Nordic Championships.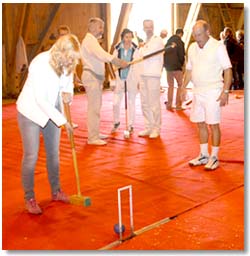 The coaching visit of Stephen Mulliner (in shorts) just two months after Latvian gained entry into the WCF was a huge step forward. When torrential rains threatened to spoil the visit, a barn was hastily outfitted with carpets and hoops, and coaching continued until midnight.
In September, in celebration of the official opening of the SIG-LIG courts, top-ranked player Stephen Mulliner from England came to do some coaching and to see the introduction of professional hoops and balls on the new lawn.
By early October, 25 competitors registered in the second Latvian Championships, playing more than 100 games during the two days. Normunds Zelcan, 48, retained the national title he won in 2010. A brief report on the championship was on national television in the evening news.
Also during the 2011 season, play on the lawns of nearby guest houses was continued and expanded. The best experience was withDiklu Palace and Malpils Manor. The owners of Diklu Palace have since decided to invest in significant improvement of their three 3/4 size courts before the end of the 2012 summer. This could potentially give the Diklu Palace a national prominence in Latvia equal to the influence of the single lawn at The Breakers resort in Palm Beach in the formative years of the US Croquet Association.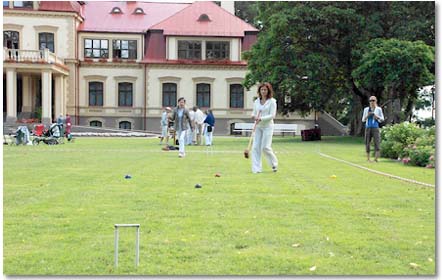 Friendly arrangements with elegant guest houses like the Diklu Palace enable the Latvians to offer free demonstrations and try-outs to the public to help the fledgling federation attract new members.
Getting serious in the year 2012
The 2012 season opened in May on lawns still raw from winter, with 12 official rankings tournaments planned for the season. An enthusiastic delegation from the official Russian team attended, and five players came with their own modern Pidcock 3000 series mallets (the most popular mallet in the world for serious players), as Sunshiny balls were introduced in play to replace the lighter and cheaper Italian ones.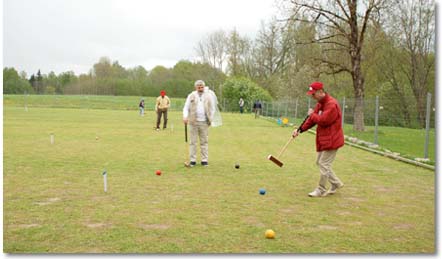 Three visitors from Petersburg, Russia, joined in the May 2012 season opener on SIG-LIG lawns still raw from winter. Normunds Zelcans, highest ranked Latvian player, won this hoop and the entire event.
A team of 16 German players will arrive in Ligatne, Latvia, to compete in the first international test match between Latvia and German in mid-August. The Latvian federation will stage the first Baltic Open tournament in Golf Croquet in September, and the best Latvian players will be at the Nordic Championships again.
In the meantime, a few more croquet enthusiasts are working on construction of more private lawns, which can only increase Latvian court capacity for major tournaments.
Stafeckis is conservative in his estimates on the extent of long term development. "Our German friends have told us that croquet marketing in mass media has not brought any considerable results for croquet development in Germany. So we believe it is essential to have an additional two or three good quality facilities to attract new players and make them feel the charm of croquet. We are targeting some rich individuals who own larger estates and who may start to like the idea or having a private club on their property. Sponsorship is another major issue for long term development."
September's Baltic Open is main international event
The flagship event for 2012 is the Baltic Open planned for the second week of September on the two full-size courts at the SIG-LIG club, 70 kilos from Riga. The weather is at its best in early September, with the grass well knitted in under the summer sun. The Golf Croquet event is limited to 16 players overall and--with an eye to its long term development as an international event--Roberts would like to limit registration from any one country to a maximum of three players. The email contact for the event is latvijaskrokets@gmail.com.
What are the realistic prospects for the near-term development of croquet in a northerly county with only a five-month playing season? With typically diplomatic understatement and a smile, Stafeckis says, "Our first target is to get out of last place according to the world Golf Croquet team rankings. That could happen very soon. By 2020, I'd guess that we will have between 100-200 active players united in a federation of between five and ten clubs."
Given the fast start Stafeckis has made with the Latvia clubs and lawns--including productive "missionary" work in neighboring Lithuania--it's easy to envision Latvia becoming the hub of future development of the sport throughout the Baltic and Scandinavia.